How to make your proposal a perfect experience, step by step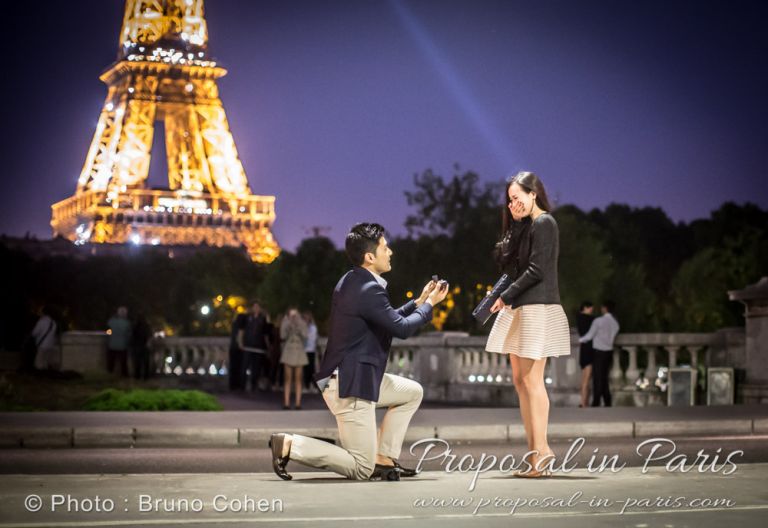 So you're planning a Proposal in Paris? This Web site www.Proposal-in- Paris.com celebrates being in business for more than ten years. We are a team of professional photographers who aim to make your proposal in Paris unforgettable.
We begin as hidden photographers who have rehearsed their roles with you for a surprise proposal.
Then the photographer introduces himself and finally does the shooting of your special engagement photos. These engagement photos, also known as "Love Shootings", are taken in the most romantic Parisian spots of your liking.
Recent testimonials from our clients can be found on our Facebook page. These amazing couples come from the USA, Canada, Mexico, Singapour, Hong Kong and Australia to make their engagement a lifelong memorable experience.
The process may feel a bit daunting. For this reason, we have created a step-by-step guide to help you organize and plan this special day for the one you love.
Our first time was in 2009. Since that, we've kept improving our methods and skills!
Step 1: booking
Book no later than a month in advance. We shoot marriage proposals, portraits and weddings all throughout the year. Please do keep in mind that the most popular times to book are mid-February for Valentine's Day as well as all of June, July, and August. We plan everything with you to set up and envision every detail. This process will need a few chats between us. In other words, we won't give just an appointment and a place for the proposal like some photographers do 😉
Our price range is EUR390-990. In order to make sure we are the right photographers for your proposal, the best thing to do is to contact us with all the details. You can use the form down below(which is best), or send an email to bruno@proposal-in-paris.com, or call us (+33-670-317-570). We usually reply within 24 hours. If you don't get any answer from us promptly, don't hesitate to call.
The reservation needs to be confirmed by a deposit. You can either pay by credit card on-line (Paypal) or over the phone. We have a secured credit card payment terminal at our office. It's 100% safe! We usually ask for a minimum deposit of EUR100.
Step 2: Preparation
As soon as you confirm your reservation, we'll have at least two video meetings. We will evaluate with you what are the best time and the best place.
Then we will practice online the scenario, you should feel like you know very well the places even though you've never been in Paris. We will take your hand and show you the best ways to look good on pictures. It is a kind of personal modeling coaching! lol
Remember that the most difficult moment to set up is the one before the proposal, so that's where we put all our skills to help you.
Step 3: Choose the best place
One of the first questions that come in mind is: "What's the best place for a proposal in Paris?"
Of course, the Tour Eiffel is Paris's most iconic backdrop. We know a few beautiful places around it. Every place has its own best time, so you have to consider first when you envision to get down on one knee.
But Paris has much more to offer! Historic places like Le Louvre, Les Tuileries, Place Vendome, or Montmartre have a lot to offer as well. Choosing the place that fits your agenda is something we care about and very often help a lot.
Step 4: Options
On top of photography, our first option is obviously video footage. A video-shooter will get the best moments and edit a final movie of 3-4 mn mixed with the music of your choice (or ours of course!). That video could as well serve as a "save-the-date" announcement, right? Prices start at EUR350.
We have a team of musicians ready to play for your proposal the tune your mate loves so much. Whether you envision a violinist, a cellist, a guitarist, a sax player or a singer, we'll make it work (or play!). Prices start at EUR200.
Imagine that a stranger in the street offers you a bunch of red roses. Wow, there is a personal message in it, and it's written by you for your girlfriend… what a nice scenario! Prices start at EUR50.
Our team of photographers has not only captured special proposal moments, but we have also been shooting weddings in Paris for more than 25 years. Wedding planning is also on our list of expertise. We can even take care of an "elopement session" if you are looking to get away from a more formal wedding. This would include taking care of the Minister paperwork. We can ensure your proposal pictures take place in the most iconic Paris settings the city has to offer. Getting married in the most romantic city in the world is a dream come true. Wouldn't you agree? Paris is waiting for you, and so are we…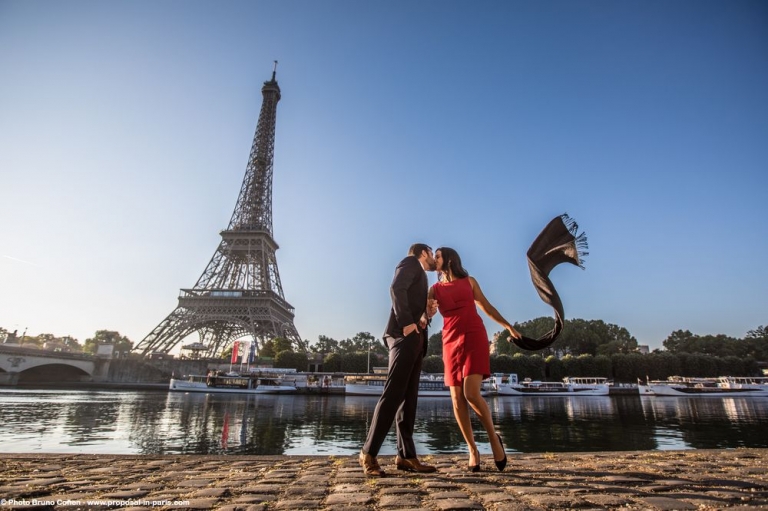 Step-by-step: our first amazing proposal
Truthfully, there's no better way to convey what we do than to share the very first wedding proposal we shot many years ago in Paris.
It all started in December 2009, when Patrick C., a movie actor from the United States, contacted our photographer Bruno Cohen. He asked us to discreetly shoot his marriage proposal on Dec. 30 around midnight in front of La Cathedrale Notre-Dame de Paris.
After a few emails, Skypes and phone calls, the project was all set up. However, instead of just waiting to shoot the actual pending proposal, Bruno followed the couple for more than two hours before Patrick actually proposed. Bruno had dinner in the same restaurant. He was just out of sight of Patrick's girlfriend enough to accomplish the task of shooting those priceless photographs.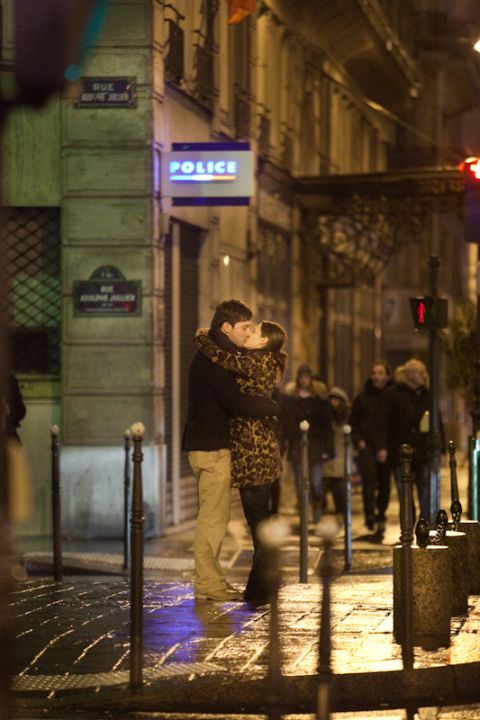 After dinner, although the light was very dim, and the weather quite cold, our photographer followed them to Ile de la Cité where Notre-Dame de Paris is found. He could document the best moments of joy a couple could ever hope to have captured!
This moment was very tender and emotional. The people who were in the square in front of the Cathedral witnessed the proposal. They could see that Patrick's girlfriend was genuinely surprised…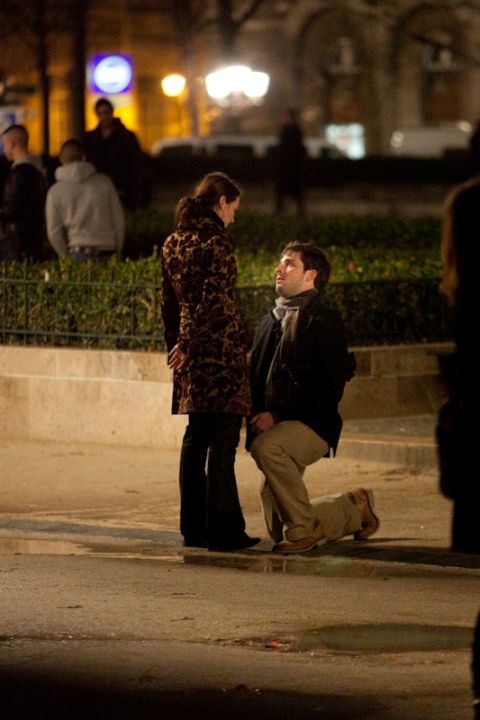 After she said yes, Patrick introduced Bruno to his fiancée. At that point, Bruno took more pictures at closer proximity to the couple with the ideal backdrop of Notre-Dame, the Seine River, the street book sellers and beautiful local cafés. See the full story and images here.
Patrick was so happy with the pictures and how everything went well that he wrote a review on Tripadvisor. His review was genuine and truly caught the attention of many other fellows with the same kind of proposal project in Paris.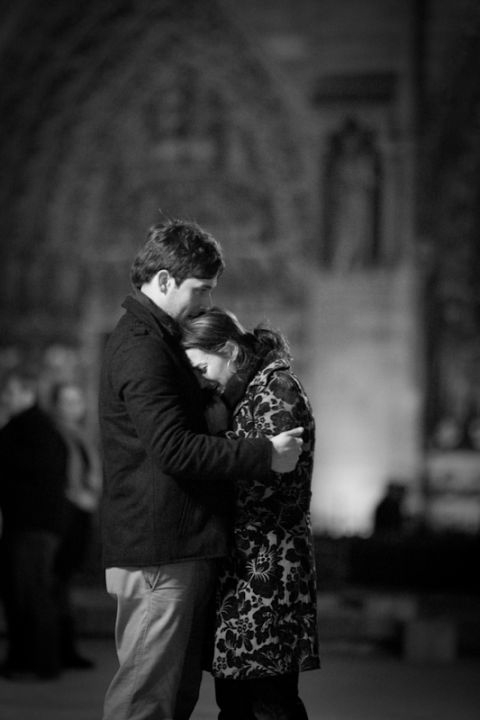 Our passion and integrity for Patrick's marriage proposal has never waivered and is our paradigm of excellence for all our photoshoots. We will create for you, in every way, what we created for Patrick, a very comprehensive personalized marriage proposal photoshoot!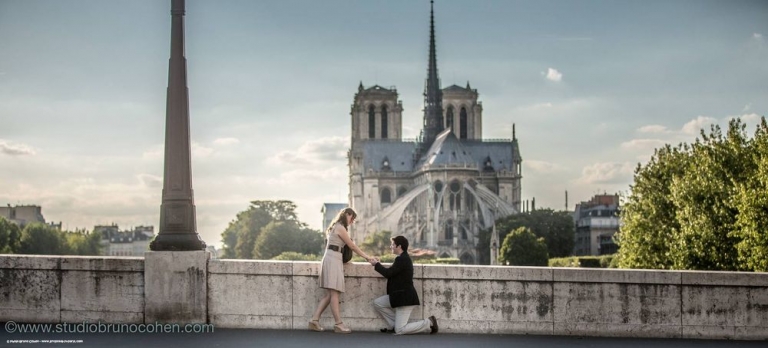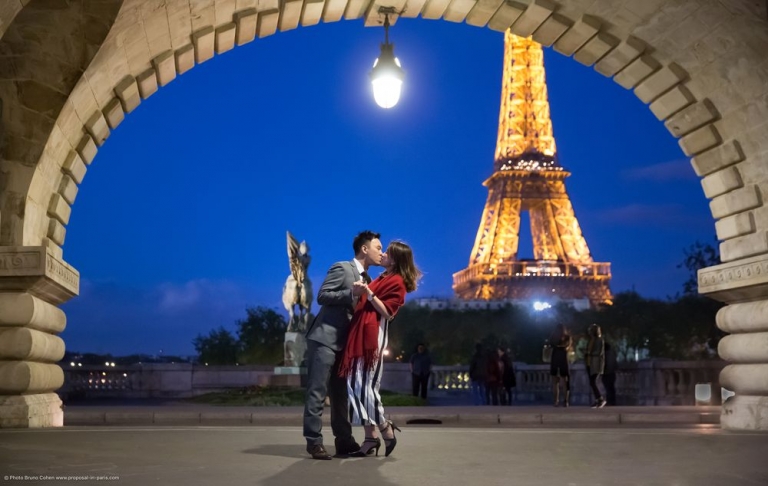 Most Parisian photographers would have delivered to Patrick the JPEGs directly from the camera. Some of them would have sorted the best photos and correct picture colors. However, Bruno is a perfectionist and that will never suffice for him. He and his team always edit the images one by one, cropping when necessary while adding local lights when needed. In his eye, every picture has to be a work of art. Finally, Bruno edited an online slideshow to show all the photos to tell the story from the restaurant to the proposal.
If you're looking for original ideas for your surprise proposal, we can offer you advice and provide the services you may be seeking as well! Have you considered purchasing flowers, hiring a musician or renting a luxury car? We can take care of all those details for you! We've helped individuals create some outrageously beautiful, unique one-of-a-kind settings to guarantee their proposals are unforgettable and authentic! This day will be one of the most important days of your life, Proposal-in-Paris is here to make it perfect!
We are invested in your happiness
We ensure the photoshoot is a brilliant success. Doing this kind of photo shooting is an adventure from the planning and organization stages up to the final delivery.
Sometimes the shoot does not happen as planned. There are sometimes unforeseen events that will take place. For instance, once a professional movie-making team came and set up lights exactly at our proposal location. Once there were workers who started drilling with Jack Hammers 20 meters away from the proposal location. This is where preparation and having a plan B is crucial!
Sometimes, we don't hide at the beginning, and the official plan is to have a couple shooting. The proposal question pops-up by surprise during the photo-shoot 😉
Our latest investment was a 1974 Rolls Royce Silver Shadow. Now we can provide you a quick and chic ride from place to place…
Please take a moment to look through our articles on the menu entitled "PLACES". Each one is both unique and amazing.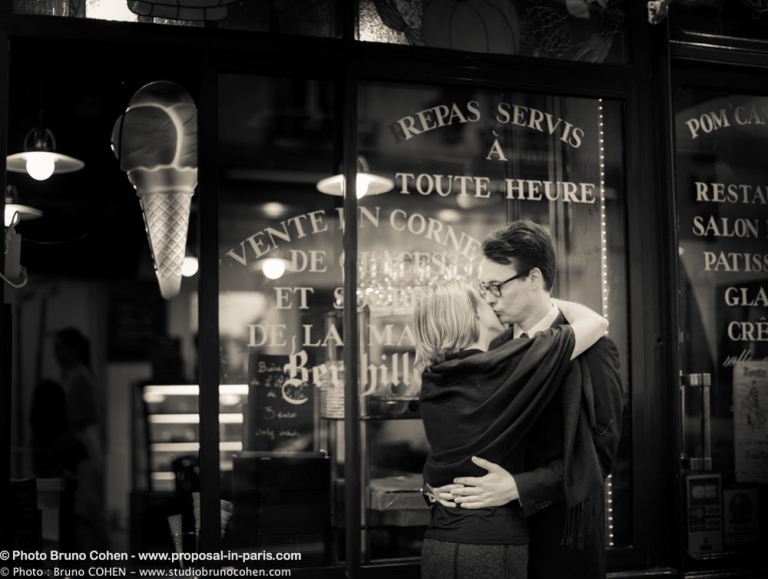 Would you like to know more about Proposal-in-Paris.com? Please fill the form below. We'll reply as soon as possible (usually within 24 hours).
From Paris, with love 🙂