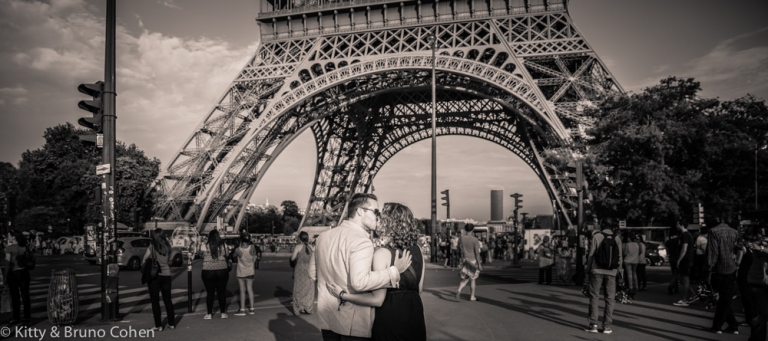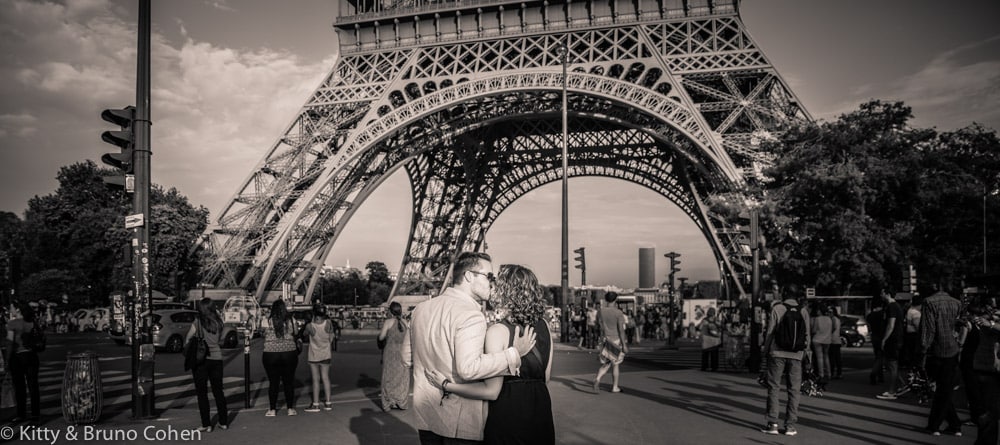 Having the Eiffel Tower as a backdrop is often the first idea when one think of proposing in Paris. We have been taking pictures in the area for more than 20 years now and every year, we discover new ideas and new spots nearby, it seems endless!!!
This time, the decision to propose under the Pont d'Iena came from a Skype meeting with Dan, when he showed me on line a CD with a landscape drawing he made of the Eiffel tower on it , that he had offered as a gift to his girlfriend, and said that would nice to propose exactly there.
I immediately loved the concept!
We had many things in common with Dan, and every time we had a conversation on line , I felt like I had been knowing him for years 😉
We first met the couple near the Eiffel Tower , and Dan was quite good at following accurately the map I had prepared for him. We mostly wanted to avoid having too many people crossing while hanging around before the actual proposal moment, which is quite tough in this very crowded area. A few years ago that we accepted to shoot on Alexander III or Trocadero Place des Droits de l'Homme on Sunday evening, that was quite impossible to get one good shoot without having someone scratching the nose or one of the thousand Mini-Eiffel-Tower sellers in the images… not romantic at all!!!
This place was definitely quiet, we just had to stay discreet with the camera shutter noises.
As Dan had planned with us a 2 hours shooting, we had plenty of time to shoot around the Port Debilly and Trocadero , then I drove them to Le Louvres Museum area, which became very quiet after sunset as usual.
Please view the slideshow here: