Our first proposal in Paris took place on December the 30 of 2009. Patrick asked us if it was possible to take hidden pictures of her love, Heather and him during his proposal.
At the beginning the mission was to be on the spot Patrick chose which was the Cathedral Notre Dame de Paris at 11 p.m. we just had to take pictures of the proposal but we went earlier at the Georgian restaurant, Deda, where the two lovers had their dinner.
After the restaurant, they walked through empty Parisian streets towards the Cathedral, crossing bridges and stopping under floor lamps for a few romantic breaks…
Following a few yards holding hands and looking at the shop windows during Christmas time, Patrick and Heather finally arrived at the Cathedral where the proposal was suppose to happen.
Patrick got down on one knee on the floor of the Cathedral tending the ring to Heather, waiting for her answer, waiting for her "yes".
Afterwards, some great pictures had been taken during the shooting. All the pictures in black & white you can see in the gallery below the article had been made after the proposal.
Deda device was : "A guest is a gift from God", which is a Georgian popular proverb. Let us be the guest of the proposal to your love.
That first proposal was expected as the only one, but Patrick loved the result and after his very positive post on TripAdvisor, some other persons came to me asking for a shooting for their "proposal in Paris".
This is how this adventure "proposal in Paris" get started.
A video from the best pictures of Patrick and Heather has been edited too.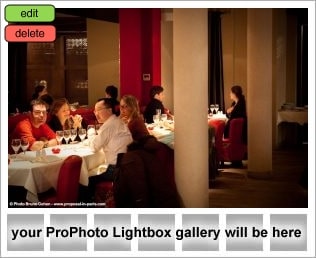 (Patrick's review on TripAdvisor).

" I proposed to my new fiance in Paris over the New Year and did four months of internet searching to find a proposal photographer for the big night. I stumbled upon the work of Bruno Cohen and contacted him right away. We brainstormed together for a few weeks about how to pull it all off without my girlfriend knowing. He went above and beyond to help map out a walking route to the Notre Dame and he brought his wife to the restaurant to get some beautiful early evening shots.

The night went off without a hitch. He stayed hidden the whole time and my fiance was completely surprised. He was wonderful to work with and sent the photos to me almost immediately. I'd recommend him to anyone based on all this alone, and then we saw his shots. This guy is a genius with the camera. He shot us on our middle of the night stroll with only the lights of Paris to pick us up. His work looked like some beautiful black and white film noir that will blow you away.

Bruno's work was worth every penny and it will be something that we cherish for our entire marriage. If you're looking for someone who will get as excited about your big event as you, Bruno is your guy. We fully intend to hire him as our wedding photographer. "