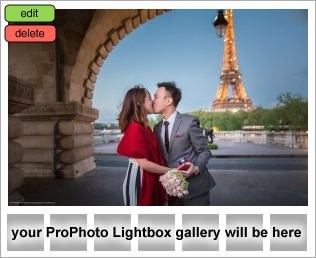 Wayne Lim is a real estate consultant at WDCM holdings in Malaysia and his fiancée, Qiau Wei is an insurance agent in Malaysia too. They were in Paris for holidays with a bunch of friends, which was the perfect time for Wayne to propose to his love-mate. He decided to include his friends for the proposal asking them to bring the bunch of flowers and the ring as quietly as possible until the very last moment which was the sparkling of the Eiffel Tower.
The team of seven friends of the couple stayed hidden behind the Bir-Hakeim Bridge pylons while the two lovers were walking around. Actually, Wayne was waiting for the Eiffel Tower sparkling at 9 p.m. to make his proposal more memorable than ever. The videographer, Pierre and me were supposed to be tourists, we were settled on the Bir-Hakeim bridge taking shots with our cameras. The two lovers didn't noticed us so they passed in front of our objectives so we could have great shots. Pierre and me were waiting for the moment of truth, ready to shot for me and ready to press the "REC" button for Pierre.
When the Eiffel Tower started to sparkle, all the Malaysian team appeared from nowhere like spies and they gave a bunch of flowers and a case to Wayne. He gave the flowers to Qiau Wei, got down on one knee, and opened that little case which contained an amazing ring lightened by a little light making everything more and more incredible than it already was.
So that became a night plenty of surprises for Qiau Wei : First, all her fiancé's co-workers came there, on the Bir-Hakeim Bridge, and then, a little blue box, a beautiful ring, a proposal in Paris.
Everything worked perfectly, everything was planned with a surgical precision thanks to our team and thanks to Wayne's team. Hundreds of shot had been taken and a video had been made by Pierre. Both requested many hours of post-production, for our lovers' pleasure.
After Wayne's amazing proposal, a photo shooting session get started on the Bir-Hakeim bridge and all way long from Bir-Hakeim to the Eiffel Tower passing by the Seine banks, the twilight was the perfect time and the weather was great ! Wayne and Qiau Wei, this classy Malaysian couple, had their proposal made eternal, thanks once more to them and to all the Malaysian team present this day !